Paradise Brochure

by Jova Lynne
A limited edition 3-part pamphlet that takes you on a journey into Paradise.
First published in 2021 by BULK Space
--
Three double side laser printed colour pages on glossy paper, folded into a brochure.
8 x 3.75 in, each
Edition of 25
Sold as a set of 3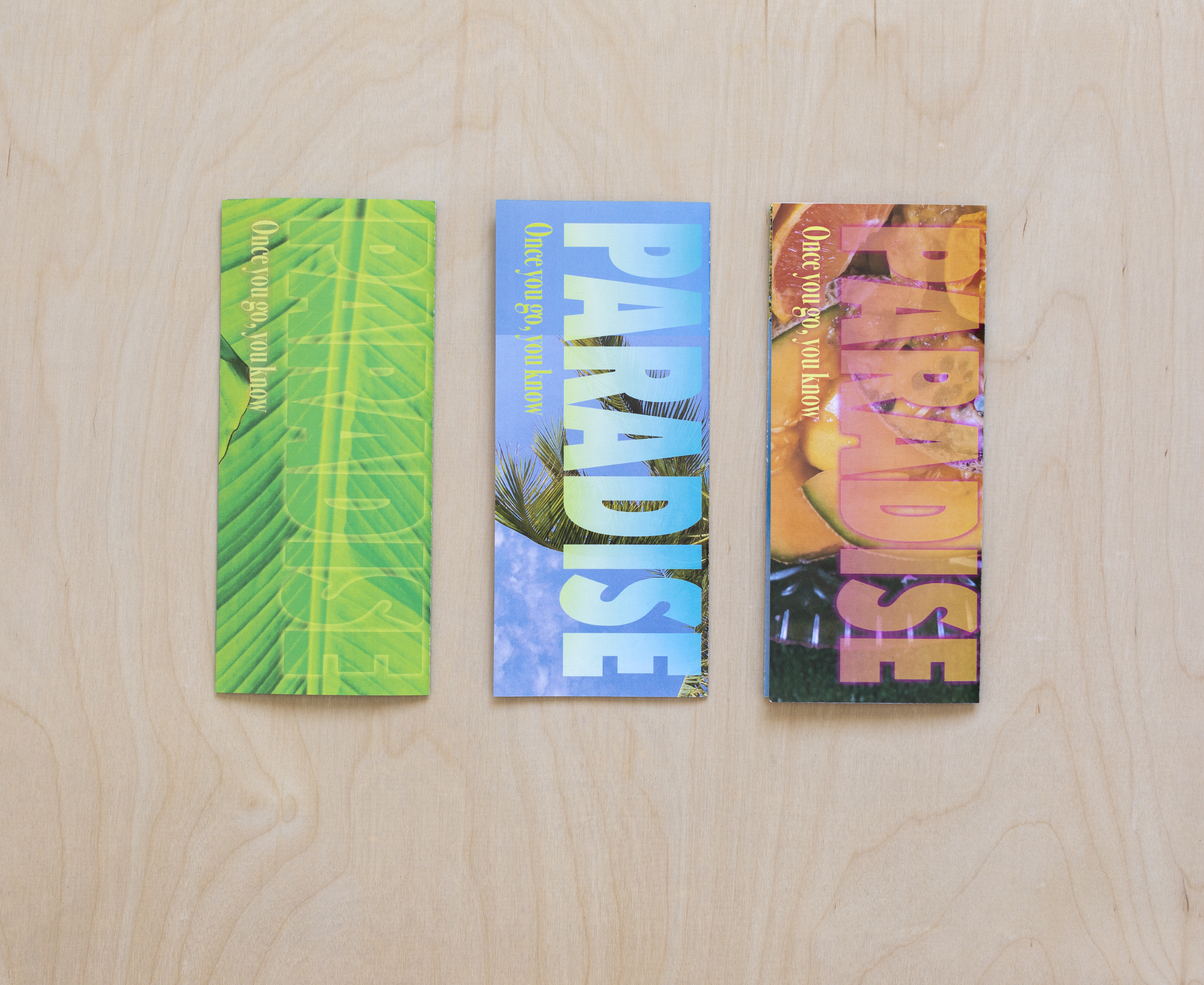 About
This work is an excerpt of Lynnes 'Visions of Paradise' series. In this work the viewer becomes voyeur, traveling with Paradise through imagined landscape. As Paradise explores the vernacular of tourist economy, she acts simultaneously as guide and protector. She is not native, nor is she foreign-she shapeshifts as she explores the slippery complexities of tourism. The tourist themselves are spectacles of contemporary colonialism. They expect to be relieved from the mundane tasks of everyday life. While on vacation they attempt to immerse themselves in the culture of other-protected from the context of their regular lives, they gain a taste for the "exotic". But what is truly exotic? What if they are just caricatures of themselves? Only the native knows.--
Jova Lynne is a multidisciplinary conceptual artist and curator based out of Detroit, MI of Jamaican and Colombian heritage born and raised in New York City. Lynne graduated from Hampshire College in Amherst, MA in 2010 with a Bachelors of Arts in Video Art and Education. She has worked at the Museum of Moving Image in Queens, NY , Yerba Buena Center for the Arts in San Francisco, CA and the Museum of Contemporary Art Detroit. Lynne is a grantee of the Astraea Foundation's Global Arts Fund, which has supported her work on media based projects in Kingston, Jamaica and Berlin, Germany in addition to her work in Detroit. As a co-founder BULK SPACE, Lynne is dedicated to creating space for artists to offer each other support, and address their needs. Lynne moved to Detroit in 2015 to pursue a Masters of Fine Arts in Photography at Cranbrook Academy of Art which she completed in May of 2017. In addition to being a working artist she is currently an independent curator.
http://www.jovalynne.com/
Find them on the internet
@jova_lynne